eWAY is an online payment processing company working in Australia, New Zealand, Singapore, Hong Kong and Malaysia.
How to set up
In order to enable and use eWAY Hosted Payment Page as a payment option, please follow these steps:
1. Create a eWAY merchant account here: http://go.myeway.com/partners/ecwid
2. Enable this payment method in Online store
Sign in to your Control Panel.
Go to the Settings → Payment page.
Change the Payment Processor value of the "Credit Card" payment method to eWAY V3 Responsive Shared Page.
Click the "[Account Details]" link near the eWAY payment method.  
Enter your API key* and API password* into the text fields
Save the changes. 
*You can get your eWAY credentials in your eWAY merchant account on My account → API key page:

Not an eWAY customer?
FAQ
I see a sale in the eWAY backend, but it isn't showing in Online store
If you see an order in eWAY and don't see it in Online store, this means that the customer paid for the order on eWAY side but did not come back to the store to the "Thank you for your order" page. In this case you get paid but the order is recorded in Online store as Abandoned and can be seen on Abandoned sales tab on My Sales page.
You can make the customers come back to the store and complete the orders so that they show as Paid on the Sales page.
Go to your eWAY account → Settings → Shared page, scroll to "Redirect After Payment Processing" and check "Redirect to merchant website" and save.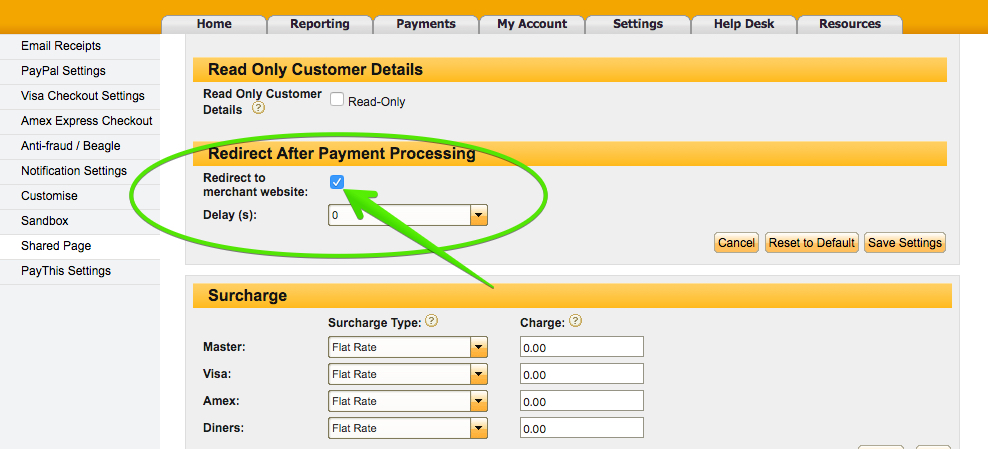 eWAY and your currency
Please make sure that your Store currency is the same as the currency in the eWAY merchant account; otherwise, your customers may get incompatible currency errors when trying to pay via eWAY.
How can I make a test payment?
To test how eWAY works once you set it up you can place a test order in your own store as a customer using one of the test credit card numbers listed here: Test Credit Card Numbers